About Us
Wok Star is a Chinese takeaway in Manchester. Why don't you try our Can of Drinks or Beef Chow Mein (Dry)?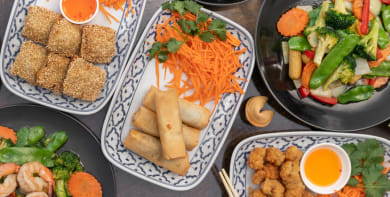 Reviews
194 reviews
Laura
"Great meal and friendly service - would order again"
14/04/2021
Shaun-Joseph
"Amazing food as always!"
08/04/2021
Bryan
"The chop suey rolls were great but the salt and pepper box was too well done, good value though."
02/04/2021
Michael
"Excellent Chinese food."
01/04/2021
Menu
House Special Omelette
Contain King Prawn or Shrimp
£6.60
Mushroom Omelette
Suitable for Vegetarian
£5.50
House Special Chow Mein (Dry)
Contain King Prawn or Shrimp
£6.60
King Prawn Chow Mein (Dry)
£6.60
Singapore Vermicelli (Dry)
(Contain Shrimp and Egg)
Hot
£6.60
House Special Chow Mein (in Sauce)
Contain King Prawn or Shrimp
£7.20
King Prawn Chow Mein (in Sauce)
£7.20
Chicken Chow Mein (in Sauce)
£6.80
Beef Chow Mein (in Sauce)
£6.80
Char Siu Chow Mein (in Sauce)
£6.80
House Special Fried Rice (Dry)
Contain king prawn or shrimp
Contain Egg
£6.70
King Prawn Fried Rice (Dry)
Contain Egg
£6.70
Shrimp Fried Rice (Dry)
Contain Egg
£6.20
Chicken Fried Rice (Dry)
Contain Egg
£6.20
Beef Fried Rice (Dry)
Contain Egg
£6.20
Char Siu Fried Rice (Dry)
Contain Egg
£6.20
Yeung Chow Fried Rice (Dry)
contain Shrimp
Contain Egg
£6.20
Singapore Fried Rice (Dry)
Contain Shrimp
Contain Egg
Hot
£6.20
Salt & Pepper Spare Ribs
Hot
£6.50
Salt & Pepper King Prawn
Hot
£6.50
Salt & Pepper Shredded Beef
Hot
£5.90
Salt & Pepper Chicken
Hot
£5.90
Salt & Pepper Chicken Wings
Hot
£5.50
Salt & Pepper Chicken Balls
Hot
£5.90
Salt & Pepper Tofu
Hot
Suitable for Vegetarian
£5.10
Salt & Pepper Mushroom
Hot
Suitable for Vegetarian
£5.10
Salt & Pepper Chips (S)
Hot
Suitable for Vegetarian
£3.40
Salt & Pepper Chips (L)
Hot
Suitable for Vegetarian
£4.50
Roast Duck in Wok Star Special Sauce
(Contain Sesame Oil)
Hot
£6.90
Roast Duck with Ginger & Spring Onion
£6.90
Roast Duck in Black Bean Sauce
(with Green Pepper)
£6.90
Roast Duck in Soy Sauce
(Cantonese Style)
£6.90
Roast Duck in Fresh Orange Sauce
£6.90
Roast Duck in Szechuan Sauce
Hot
£6.90
Roast Duck in Chilli Garlic Sauce
Hot
£6.90
Roast Duck with Pineapple
£6.90
Your Choice of Cooking Style
Chicken & Sweet Corn Soup
(contain Egg)
£3.30
Crab Meat & Sweet Corn Soup
(contain Egg)
£3.30
Peking Hot & Sour Soup
Hot
(contain Shrimp and Egg)
£3.30
Won Ton Soup
(contain Shrimp and Pork)
£3.80
House Special Curry
(contain King Prawn)
Hot
£6.80
Thai Green Roast Duck Curry
Hot
£6.90
Thai Green House Special Curry
Contain king prawn or shrimp
Hot
£6.80
Thai Green King Prawn Curry
Hot
£6.80
Thai Green Beef Curry
Hot
£6.10
Thai Green Chicken Curry
Hot
£6.10
House Special Foo Yung
Contain King Prawn or Shrimp
£6.60
Thai Red Roast Duck Curry
Hot
£6.90
Thai Red House Special Curry
Contain King Prawn or Shrimp
Hot
£6.80
Thai Red King Prawn Curry
Hot
£6.80
Thai Red Chicken Curry
Hot
£6.10
Mixed Hors D'oeuvres for 2 Persons
(2 Spring Rolls, Seaweed, 2 Sesame Prawn on Toast, 2 BBQ Ribs, 2 Crispy Prawn Won Ton and Sweet and Sour Dip)
£9.10
Salt & Pepper Pizza Box
Hot
(Spare Ribs, Chicken, Crispy Shredded Beef, Chicken Wings, Chicken Balls, Spring Rolls, Sesame Prawn Toast, Chips and Curry Sauce)
£17.00
Salt & Pepper Vegetarian Pizza Box
Hot
Suitable for Vegetarian
(Tofu, Mini Veg Spring Rolls, Curry Veg Samosa, Mushroom, Crispy Veg Won Ton, Chips, Chow Mein and Curry Sauce)
£15.80
Crispy Spring Roll (4)
(contain Shrimp)
£3.90
Sesame Prawn on Toast (6)
£4.10
Crispy Prawn Won Ton (8)
(with Sweet and Sour Dip)
£4.10
Har Kau (5)
(Steamed Prawn Dumpling)
£4.80
Beef Siu Mai (5)
(Steamed Beef Dumpling)
£4.60
Pork Siu Mai (5)
(Steamed Pork Dumpling)
£4.60
Crispy Seaweed
Vegetarian
£3.80
Skewered Satay Chicken (4)
Contain Peanuts or Cashew nuts
£5.30
Peking Capital Spare Ribs
£6.50
Chicken Wings in Peking Sauce
£5.50
Chicken Wings in OK Sauce
£5.50
Crispy Aromatic Duck Quarter
(Served with Pancakes, Salad and Hoi Sin Dip)
£9.10
Crispy Aromatic Duck Half
(Served with Pancakes, Salad and Hoi Sin Dip)
£17.50
Wok Star Special Shredded Beef
(with Ginger Chilli Sauce) (contain Sesame Oil) (Very Tasty!!)
Hot
£6.50
Crispy Rainbow Shredded Beef
(Deep Fried Strips of Beef in Chilli in delicious Home-made Sauce)
Hot
£6.10
Beef with Ginger & Spring Onion
£6.00
Beef in Black Pepper Sauce
Hot
£6.00
Beef in Satay Sauce
Contains Peanuts or Cashew nuts
Hot
£6.00
Beef in Kung Po Sauce
Contains Peanuts or Cashew nuts
Hot
£6.00
Beef in Szechuan Sauce
Hot
£6.00
Beef in Chilli Garlic Sauce
Hot
£6.00
Beef in Seasonal Vegetable
£6.00
Crispy Shredded Beef in Chilli Sauce
Hot
£6.00
Crispy Shredded Beef in OK Sauce
£6.00
Beef with Green Pepper in Black Bean Sauce
£6.00
House Special Udon (Dry)
Contains King Prawn or Shrimp
£7.10
Vegetarian Sweet Corn Soup
Suitable for Vegetarian
(contain Egg)
£3.30
Vegetarian Hot & Sour Soup
(contain Egg)
Hot
Suitable for Vegetarian
£3.30
Vegetarian Crispy Won Ton
(with Sweet and Sour Dip)
Suitable for Vegetarian
£3.90
Vegetarian Spring Rolls
Suitable for Vegetarian
£3.90
Vegetarian Mini Spring Roll (8)
Suitable for Vegetarian
£3.90
Deep Fried Tofu
with Choice of Cooking Style*
Suitable for Vegetarian
£5.10
Mushroom
with Choice of Cooking Style*
Suitable for Vegetarian
£5.10
Singapore Vegetable Vermicelli
(contain Egg)
Suitable for Vegetarian
Hot
£5.90
Mixed Vegetables Foo Yung
(contain Egg)
Suitable for Vegetarian
£5.10
Mushroom Foo Yung
(contain Egg)
Suitable for Vegetarian
£5.10
Mushroom Fried Rice
(contain Egg)
Suitable for Vegetarian
£5.40
Mushroom Chow Mein
Suitable for Vegetarian
£5.40
Mixed Vegetables Fried Rice
(contain Egg)
Suitable for Vegetarian
£5.40
Mixed Vegetables Chow Mein
Suitable for Vegetarian
£5.40
Plain Fried Rice
(without Egg)
Suitable for Vegetarian
£2.70
Stir Fried Broccoli with Garlic
Suitable for Vegetarian
- Most of our Dishes contains Oyster Sauce -
£4.30
Stir Fried Bean Sprouts
Suitable for Vegetarian
- Most of our Dishes contains Oyster Sauce -
£3.90
Stir Fried Onions
Suitable for Vegetarian
- Most of our Dishes contains Oyster Sauce -
£3.90
Stir Fried Soya Meat
(contain Wheat and Gluten)
Suitable for Vegetarian
with Choice of Cooking Style*
£5.90
Mixed Vegetables
with Choice of Cooking Style*
Suitable for Vegetarian
£5.10
Wok Star Special Shredded Chicken
(with Ginger Chilli Sauce) (contain Sesame Oil) (Very Tasty!!)
Hot
£6.50
Crispy Rainbow Shredded Chicken
(Deep Fried Strips of Chicken with Chilli in delicious Home-made Sauce)
Hot
£6.10
Chicken in Wok Star Special Sauce
(Contain Sesame Oil)
Hot
£6.50
Chicken with Ginger & Spring Onion
£5.90
Chicken with Green Pepper in Black Bean Sauce
£5.90
Chicken in Black Pepper Sauce
Hot
£5.90
Chicken in Satay Sauce
Contain Peanuts or Cashew nuts
Hot
£5.90
Chicken in Kung Po Sauce
Contain Peanuts or Cashew nuts
Hot
£5.90
Chicken in Szechuan Sauce
Hot
£5.90
Chicken in Chilli Garlic Sauce
Hot
£5.90
Chicken with Seasonal Vegetable
£5.90
Crispy Shredded Chicken in Chilli Sauce
Hot
£5.90
Crispy Shredded Chicken in OK Sauce
£5.90
Crispy Chicken in OK Sauce
£5.90
Crispy Chicken in Fresh Lemon Sauce
£5.90
Crispy Chicken in Fresh Orange Sauce
£5.90
House Special Chop Suey
Contain King Prawn or Shrimp
£6.60
Char Siu with Cashew Nuts
£6.30
Char Siu with Ginger & Spring Onion
£5.90
Char Siu in Satay Sauce
Contains Peanuts or Cashew nuts
Hot
£5.90
Char Siu in Kung Po Sauce
Contain Peanuts or Cashew nuts
Hot
£5.90
Char Siu in Szechuan Sauce
Hot
£5.90
Char Siu in Chilli Garlic Sauce
Hot
£5.90
Char Siu with Seasonal Vegetable
£5.90
Char Siu with Green Pepper in Black Bean Sauce
£5.90
For 1 Person £13.50
Chicken and Sweet Corn Soup
or Peking Hot and Sour Soup (contain Egg) (contains: King Prawn or Shrimp) (Hot)
Vegetarian Mini Spring Roll (Suitable for Vegetarian)
Salt and Pepper Chicken Wings (4) (Hot)
Beef in Satay Sauce (Hot) (contains: Peanuts or Cashew Nuts)
Egg Fried Rice
£13.50
For 1 Person £12.60
Fortune Cookie and Prawn Crackers
Vegetarian Mini Spring Roll (Suitable for Vegetarian)
Salt and Pepper Chicken Wings (Hot)
or Salt and Pepper Spare Ribs (Hot)
Sweet and sour Chicken or satay Chicken (Hot) (Contains Peanuts or Cashew Nuts)
Egg Fried Rice
£12.60
For 2 Persons £24.00
Mini Vegetarian Spring Rolls (Suitable for Vegetarian)
BBQ Spare Ribs
Sweet and Sour Chicken
Beef in Satay Sauce (Hot) (Contain: Peanuts or Cashew Nuts)
Yeung Chow Fried Rice (contain Egg) (contains: King Prawn or Shrimp)
Prawn Crackers
£24.00
For 2 Persons £22.50
Fortune Cookie (2)
Mixed Hors D'oeuvres
Sweet and Sour Chicken
Chicken in Satay Sauce (Hot) (contains: Peanuts or Cashew Nuts)
Egg Fried Rice (2)
£22.50
Fried Rice (S)
(with or without Egg)
£2.80
Fried Rice (L)
(with or without Egg)
£4.10
Boiled Rice & Curry (S)
Hot
£3.20
Boiled Rice & Curry (L)
Hot
£3.90
Boiled Rice, Chips & Curry (S)
Hot
£3.20
Boiled Rice, Chips & Curry (L)
Hot
£3.90
Fried Rice & Curry (S)
Hot
£3.40
Fried Rice & Curry (L)
Hot
£4.10
Fried Rice, Chips & Curry (S)
Hot
£3.40
Fried Rice, Chips & Curry (L)
Hot
£4.10
Holland's Pie
(Cheese and Onion Pie or Meat and Potato Pie)
£2.00
Banana or Pineapple Fritters Banana Fritters
£3.30
Banana or Pineapple Fritters Pineapple Fritters
£3.30
Large Bottle of Coke or Diet Coke Large Bottle of Coke
£2.70
Large Bottle of Coke or Diet Coke Large Bottle of Diet Coke
£2.70
Satay Sauce
Contain Peanuts or Cashew Nuts
Hot
£1.80
Roast Duck in Thai Sweet Chilli Sauce
Hot
£6.90
House Special in Thai Sweet Chilli Sauce
Contain King Prawn or Shrimp
Hot
£6.80
King Prawn in Thai Sweet Chilli Sauce
Hot
£6.80
Beef in Thai Sweet Chilli Sauce
Hot
£6.10
Chicken in Thai Sweet Chilli Sauce
Hot
£6.10
Fillet Steak in Black Bean Sauce
£8.10
Fillet Steak with Ginger and Spring Onion
£8.10
Fillet Steak in Peking Sauce
£8.10
Fillet Steak in Satay Sauce
Contain Peanuts or Cashew nuts
Hot
£8.10
Fillet Steak in Black Pepper Sauce
Hot
£8.10
All in One Tray
One Starter + One Main Meal + Chips or Boiled Rice or Egg Fried Rice
£7.90
King Prawn in Wok Star Special Sauce
(Contain Sesame Oil)
Hot
£6.60
King Prawn with Cashew Nuts
£6.60
King Prawn with Ginger & Spring Onion
£6.60
King Prawn in Black Bean Sauce
(with Green Pepper)
£6.60
King Prawn in Peking Sauce
£6.60
King Prawn in Satay Sauce
Contains Peanuts or Cashew nuts
Hot
£6.60
King Prawn in Kung Po Sauce
Contains Peanuts or Cashew nuts
Hot
£6.60
King Prawn in Szechuan Sauce
Hot
£6.60
King Prawn in Chilli Garlic Sauce
Hot
£6.60
King Prawn with Seasonal Vegetable
£6.60
King Prawn with Pineapple
£6.60
House Special with Cashew Nuts
£6.60
House Special with Ginger & Spring Onion
£6.60
House Special with Green Pepper
in Black Bean Sauce
£6.60
House Special in Szechuan Sauce
Hot
£6.60
House Special with Seasonal Vegetable
£6.60
House Special with Mushroom
£6.60
House Special in Hoi Sin Sauce
Contain King Prawn or Shrimp
£6.60
King Prawn in Hoi Sin Sauce
£6.60
Roast Duck in Hoi Sin Sauce
£6.90
Char Siu in Hoi Sin Sauce
£5.90
House Special Fried Rice (in Sauce)
Contains King Prawn or Shrimp
Contain Egg
£7.20
King Prawn Fried Rice (in Sauce)
Contain Egg
£7.20
Chicken Fried Rice (in Sauce)
Contain Egg
£6.70
Beef Fried Rice (in Sauce)
Contain Egg
£6.70
Char Siu Fried Rice (in Sauce)
Contain Egg
£6.70
Sweet & Sour Special
(Cantonese Style)
Contain King Prawn or Shrimp
£6.50
Sweet & Sour King Prawn
(Cantonese Style)
£6.50
Sweet & Sour Chicken
(Cantonese Style)
£5.90
Sweet & Sour Chicken Balls
£5.90
Sweet & Sour Pork
(Cantonese Style)
£5.90
Contact Us
Find Us
157 Fog Lane, Manchester, M206FJ
We deliver to
M12, M13, M14, M16, M19, M20, M21, M22, SK4, SK5, SK8